Family cakes for all lifes' milestones
True Local on the 11th of August 2009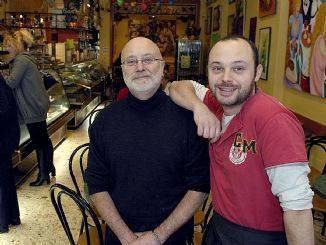 John and Gianni Menara at Lucchinis cafe
SELLING cakes for a customer's baptism and then years later their wedding has been a privilege for Lucchini Cakes in Preston.
The family-owned business was established in 1973 and part-owner Gianni Menara says it's a compliment to have such loyal customers.
"We have seen two or three generations grow up."
"We start with their baptism cake and 20 or 30 years down the track we make their wedding cake," Mr Menara said.
"That's the best compliment you can have. They bring their young families back and the ball keeps rolling," he said.
Lucchini's Cakes, as well as their off-shoot business in Preston Market, was originally started as an Italian cake shop in Lygon St in 1952.
In 2009, the business is still going strong with a focus on coffee and continental cakes.
The business has a strong lunch and breakfast crowd, with filos, focaccias and piadinas particular lunch-time favourites with locals.
Gianni's father John says the family's passion for food is the heart and soul of their business.
Lucchini Cakes is at 360 High St, Preston. Call 9478 2724.